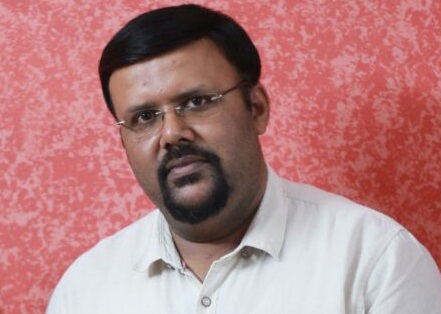 Roby Cherian, Ph.D
HoD & Assistant Professor
Physics

Serving as Chairman 2022-23 for Physics Complementary Paper for Integrated M.Sc. Chemistry course offered by MG University
Life member of Indian Science Congress Association  – Membership No. : L40490
Successfully completed two week Online Faculty Development Programme (Online Refresher) on "Learning Advance E-tools for MOOCs Development & Research, Sept 1-14, 2020 under the Ministry of Human Resource Development Govt. of India Pandit Madan Mohan Malaviya National Mission on Teachers and Teaching (PMMMNMTT) organized by Motilal Nehru College (evening) (University of Delhi) in collaboration with Teaching Learning Centre (TLC) Research Development and Service Cell Ramanujan College (University of Delhi) "
LIFE MEMBER of THE ASSOCIATION OF PHYSICS TEACHERS (IAPT), Association of Physics Teachers (APT) and AIACHE – All India Association for Christian Higher Education
Research Guide of the Research Center at Department of Physics affiliated to  Mahatma Gandhi University since 2019.
Successfully completed SWAYAM/NPTEL Course – Physics Through Computational Physics organized by IISER Bhophal (8 week Course starting from Jan 2020) with 88% marks.
Served as an 'OBSERVER' for the Engineering / Pharmacy Entrance Examination, Kerala (KEsAM)-2021.
Attended the 2 days Teachers Training Program on Mathematical Modelling using Technology-enabled and Student-centered learning systems organized by Kerala State Council for Science, Technology and Environment, HBCSE-TIFR and Dept. of Physics CUSAT on Sept. 23-24, 2021.
Resource person for the Orientation Programme for the UG and PG First year Physics students at Al-Almeen College, Edathala on Nov 19th 2021. 
Resource person for a National Webinar on Career aspects in Physics on 20th Sept 2021 organized by Dept. of Physics, Vivekananda College, Agasteeswaram.
Talk on Career aspects in Physics was held on 22nd June 2021 for final year UG and PG students of St. Xaviers College Aluva.
Resource Person for the Bridge Course for KV 10th 2020-21 batch students on "Scientific Aptitude" on 27th April 2021.
Resource Person for the Webinar on "Developing Scientific Temper" as part of Probudit, The Awaken organized by St. Teresa's College Ernakulam on 6th May 2020 – Please email for obtaining the talk robycherian@shcollege.ac.in
Resource Person for the Webinar and Participated in the Webinar of St. Francis College of Women, Hyderabad on 29th May 2020
Participated in the Webinar of St. Michaels College Chertala from 21-23rd May 2020.
Online Learning and Content development course (OLCD) – FLAIR kerala,  Directorate of Collegiate Education, Kerala  during the lockdown period 18th April to 2nd May 2020.
Received Student Solar Ambassador Certificate – An online course, recognized by Skill Council for Green Jobs, conducted from 01 May 2019 to 31 Dec 2019 for Student Solar Ambassador Workshop 2019.
Attended Refresher Course in "Curriculum Design, Implementation and Learning Outcome" at UGC-HRDC, University of Kerala, from 31-01-2020 to 13-02-2020.
Acting as Resource Person of Energy Management Centre, Kerala since 13th Nov 2019.
Served as Judge in the Regional Level Jawaharlal Nehru National Science, Mathematics and Environment Exhibition 2019-20 of KVS Ernakulam Region held on Oct 3rd 2019 at KV NAD ALWAYE. 
Played a major role in setting up the project on "Localization of Solar Energy through Local Assembly, Sale and Usage of 1 Million Solar Urja Lamps (SoUL)" at SH College on Oct 2nd 2019 in association with IIT Bombay.
Attended a pre-school workshop of UrjaKiran 2019-20 Energy management Awareness Campaign at Ernakulam on 28th Aug 2019 organized by Centre for Environment and Development Center (CED)
Gave a motivational talk on "Developing Research Aptitude among children" at KV NAD ALWAYE on 27th Aug 2019.
Gave a motivational talk on the different career aspects after Physics at St Paul's College Kalamassery on 26th Feb 2019.
Invited talk on "Career Aspects in Physics"  at Sacred Heart College, Chalakudy, as part of the

DBT-STAR College Scheme,

  on 31

st

Jan 2019

Invited talk on   "Orientation Programme for Higher Education " at Bharat Mata College, Thrikkakara on July 13

th

2018.

Was the judge for Dr. Annie Joseph Vallamattom Memorial Inter-Collegiate Project Presentation held in St. Teresa's College Ernakulam on 3

rd

August 2018.

Invited Talk on "Career Aspects in Physics" on Dec 15th 2017 at St Xaviers College Aluva.
Invited Talk on "Physics of Resonance" at St .Xaviers college Aluva on their Science week celebration 3rd Feb 2016.
Orientation Programme – ASC Kannur (29/11/16 t0 19/12/16)
Refresher Programme – ASC University of Kerala (20/11/2013 to 17/12/2013)
MG University approved research guide in Physics at Sacred Heart College since 31st May 2019.
Life long member of AIACHE  (All India Association for Christian Higher Education ).
Life long member of APT (Academy of Physics Teachers).
Member of Judging panel of National Science Congress held at Kendriya Vidyalaya Kochi October 17 and 18th 2012.
Max Planck Fellowship during the period 2009-2011.
Best Poster Award at International Conference on Nanoscience and Nanotechnology (ICONSAT)-2008, held at Chennai-2008.
Senior Research Fellow of Council of Scientific and Industrial Research (CSIR).
Qualified Graduate Aptitude Test in Engineering 2004.
Qualified UGC-CSIR National Eligibility Test for Lectureship (2003).
Prof: Daniel Award for the best student and academic excellence in the undergraduate study (B.Sc).
Rev. Fr. Archangel Award from Sacred Heart College Kochi – under M.G University Kottayam Kerala, for scoring the highest mark in B.Sc Physics.