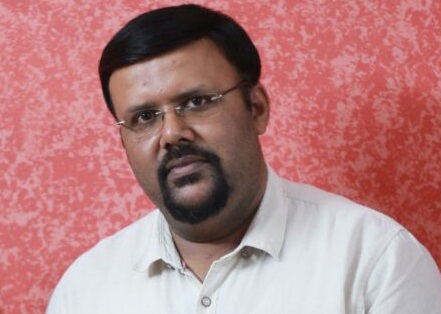 Roby Cherian, Ph.D
HoD & Assistant Professor
Physics

Core Committee member and also convener for the Electronic display committee for Heartifest 2023
Coordinated Confluence-III on November 24th 2022 – as part of National Law Day / Samvidhan Diwas – Speaker of the day was Dr Harisankar K Sathyapalan  spoke on "Suing the State: Of International Law and Disputes".
College Council Secretary 2022-23 
Serving as Head of  Department, Department of Physics,  since 1st June 2022
One of the Coordinator for the Prof. Jolly Lukose Endowment Do-n-Present for the year 2020-21 during the month of May2021
M.Sc. Students project carried out under my guidance received the Aspire Scholarship for the year 2020-21. (IRIN BABU – " ANALYSIS OF ORDINARY DIFFERENTIAL EQUATIONS BY EULER AND MODIFIED EULER METHODS " and   KARTHIKA RAVEENDRAN – " ACCURACY ANALYSIS OF INITIAL VALUE PROBLEMS FOR ORDINARY DIFFERENTIAL EQUATIONS USING RUNGE-KUTTA METHOD ")
Active NPTEL SPOC certificate for the June-Dec 2019 semester.
Coordinated the Department Alumni Meet on May9th 2021 in which the Farewell to Rev. Dr. Prasant Palackappillil CMI ; Welcome to New Principal Rev. Dr. Jose John CMI and Vice Principal Dr. Siby Mathew were done. Department Awards for the academic year 2019-20 was also announced on this day.
Coordinated the Confluence-II series on March 8th 2021 – Speaker of the day was Reema Poddar spoke on "The Future is brighter than you think".
As part of SH faculty enrichment – Basic introduction to use deQ (Quality Management software by IPSR  team) software was given to the Self finance and Aided Faculty on 23rd Dec 2020 in 2 separate session during the staff meeting.
Coordinated the  CONFLUENCE Inaugural Lecture Series  on Nov 26th 2020 –  Speaker of the day was Deeso Manjila (1993-95 BSc Physics Batch/Head – Bahwan Logistics LLC, Muscat, Oman)
Designed various flyers/brochures for college during the lockdown period and PAASH logo that was released on 22nd Nov 2020.
Department level coordinator of the 2020 PG Admission.
Acted as the Internal Resource Person for the Moodle Workshop held at SH College on Sept.22nd as part of the Faculty Orientation and Induction Programme 2020.
Coordinated the 1st Online PAASH (Physics Alumni Association of Sacred Heart) Meeting on Sept2nd 2020  in which more than 350 Alumni participated.
Technical Coordinator for the Inauguration of SWASTI – Dr. M BEENA IAS, Chairman Cochin Port Trust on Aug, 20th 2020.
Technical Coordinator for the first Youtube live streaming from Department Channel for the Webinar under the programme Ek Bharat Shrestha Bharat organized by Department of Physics Sacred Heart College on Aug, 19th 2020.

Technical Coordinator of the AIACHE Kerala Region Review Meeting on 12th August, 2020 from 3.00 to 5:00 pm in the Online Platform.
One of the Coordinators for the Webinar – NEW EDUCATION POLICY & HIGHER EDUCATION SECTOR, KERALAM – PROSPECTS, PROBLEMS & PREPAREDNESS on August 7, 2020.
Coordinated the Webinar "Making the Right Choice" aimed in answering the queries from UG 2020 applicants from the :: Commerce and Management on July 22, Arts on July 23 and Science on July 24, 2020.
Coordinated the Intellectual Property Rights Webinar (July 17-24, 2020) organized by IPR cell and IQAC SH College.
One of the Coordinators of the NSS Webinar " Mental Health in Pandemic times " – July 16th, 2020.
Department level Coordinator for the ISO certification process.
Coordinated the  Outcome based Education (OBE) – SH Webinar (June 11, 12, 15, 16 and 17th 2020) organized by IQAC under the UGC Paramarsh Scheme.
One of the Coordinators of  Heartian International Webinar Series – 21st May, 27th May and 6th June by Dr. Muralee Thummarakudy on Online Teaching, Online Learning and Online Learning : A guide for Parents respectively.
As part of Extension activity – Urjakiran Public awareness for (1)  KSRTC employees at KSRTC Ernakulam south Depo. was held on 19th Feb 2020 (2) RTO office employees at kakkanad on 27th Feb 2020
Served as External Mentor for the Walk with the Scholar Program at Aquinas College, Edakochi. Title of the Talk "Developing Scientific Temper" on 20th January 2020.
Serving as PG Physics Exam Chairman since 2021-22 academic year.
Representing the Department in the college level Purchase committee since 2021-22 academic year.
Served as UG Physics Exam Chairman during 2019-20 to 2020-21 academic year.
Serving as Joint-Convener of SH-IQAC core team since May 2019 onwards.
Coordinator of the Light and Sound for the college level activities since 2012.
Initiated the starting up of "NPTEL" local chapter in SH College, Thevara in 2018. Acting as the NPTEL SH College Thevara Local chapters SPOC Coordinator.
Actively involved in the online video lecture series on "Computational Physics" in SH Vision Online Channel.
Mentor of Walk with a Scholar Program (SH College), Government of Kerala (2017-18)
BOS member of Physics SH College.
SH Encon Club Co-coordinator during the period 2013-2017. Represented Encon Club of SH College in the Environmental protection and energy conservation activities presentation and won first prize in the college level in 2015 and 2017.